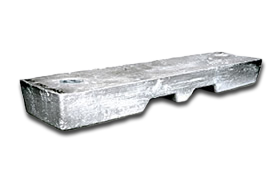 Wegal - MOD is galvanizing zinc alloy produced on the basis of Z1 electrolytic zinc in the form of 900kg blocks.
WEGAL is used for the unitary hot galvanizing of steel products and cast iron products.
The alloy is manufactured on the basis of primary zinc (under EN 1179 standard) with four alloy additives (Al, Sn, Ni, Mn).

 Packaging

 

 Transport

 
Blocks are delivered without packaging.
 
Blocks may be shipped by any covered means of transport.

 Material safety data sheet